Its time for VicLit's Celebrate the Small Things AND Jordan McCollum's I Spy a Secret Blogfest!
Today I am celebrating that my son's fracture is a minor one and that his leg is healing well. I am also celebrating that I'm being brave and posting a scene from my YA novel "Simmer". It is very much a first draft but as it is a scene about secrets, I thought it would be fitting to share during the I Spy a Secret Blogfest.
"Simmer" is the story of Zelia, a 16 teen year old that witnessed the death of her best friend, Lysta. She thinks it is an accident, a byproduct of the corrupt times she lives in, until clues start surfacing.
The book alternates between Zelia's point of view and journal entries that Lysta wrote before she was killed. This particular scene is a journal entry.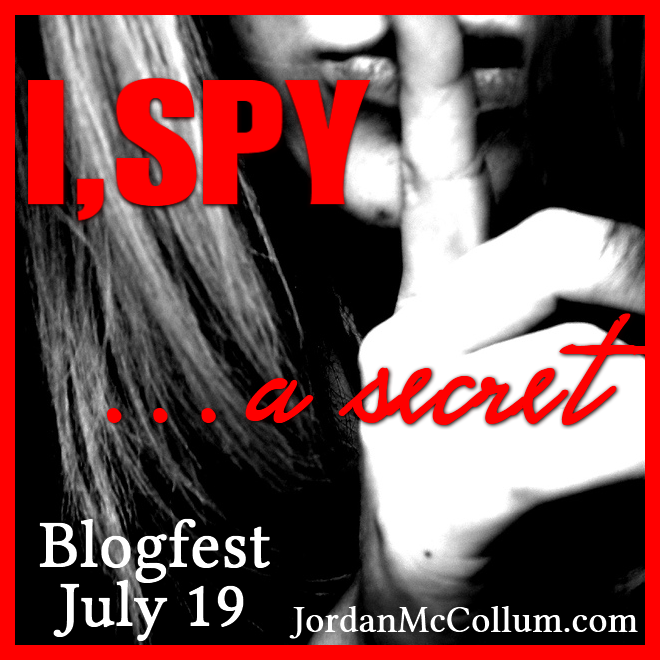 Zelia knows something is different.

Today she asked me if I was all right while we were wandering through the market.

Apparently I am withdrawn, not my usually bright and bubbly self.
"There is something you're not saying."

She said.

Her eyes were on my face.

I couldn't look at her.

No one can read my expressions as well as Zeelie.
"Yes." I answered.

I couldn't bring myself to lie to my best friend.
"You know I am here if you need me."
"I know." I said.

"This is something that is just for me to know."
"Ok."
And that was the end of it.

She knew I was up to something but she didn't pry.

I love that about her.

Always there and never demanding.

If the roles were reversed I would be hammering her with questions and wouldn't rest until I had a satisfactory answer.

It's a good thing that they aren't.

I can keep a secret, or so I seem to be able too, but I can't stand one being kept from me.
I still had one dilemma.

Going anywhere without Zeelie was going to be a challenge.

Whenever our ships were at the same port we were inseparable and I'd have it no other way, except for a few moments to complete my mission.
The entire time we were at the market I was looking for one thing and it wasn't a new handbag.

I was looking for a booth with a banner hanging out front.

Ha.

Every booth had a banner.

Or two.

Or seven.

The banner I was looking for

was a deep blue green

one with gold threads woven throughout in the shape of fish.

I was very grateful that golden fish didn't seem to be a popular pattern.

Once I spotted it I had to get to it.

Alone.
Blaine saved me.

He joined us and I don't think he did so to hang out with me.
"You should take her see the paintings."

I whispered to him. "She wouldn't linger because she didn't want to bore me but I know she wants to study them longer."
He didn't need any more encouragement then that.
I was alone and I hadn't lied.

I wasn't even rude to the people I care about.

My brother seemed pleased with the arrangement.

He was grinning and animated in a way that I rarely saw.
I went back to the "fish" booth, signed my name as "Squirrel" in the ledger as I had been instructed and placed the letter in the basket.

The man at the booth didn't even turn around, just reached back and handed me another packet.

I slipped it into my bag and left.
I feel like I should be feeling more than I am.

I just feel numb.

I am a part of something now.

I'm not even sure exactly what; just that it is for the northern cause.
No one deserves to live the way they do.
If you made it to the end of this, thank you so much! It definitely needs work but it is such a fun story to write. Be sure to check out Jordan McCollum's new book, I, Spy!